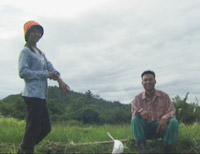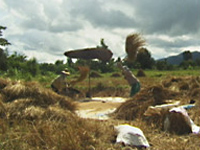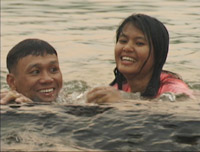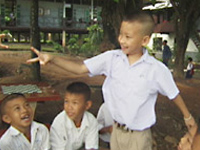 Director, Photography, Editing: NAOI Riyo
Producer: NAOI Riyo, Asia Press International
Thailand, Japan /2005/ Thai ,English /Color/DV/90min
E-mail: info@riporipo.com
Story
The documentary film follows the life of two families of HIV patients for a three years period and was shot at a village in a tranquil field in northern Thailand.
Anna was infected with HIV by her husband. After she lost her husband, she met Pom, who lost his wife to Aids at the same time. Anna married Pom and together they started a new life. They work at a farm during the busy agricultural season and sell frogs and fish at the village during the agricultural off-season. Eight year old Boy helps his parents work at an orchard every day. He has been absent from school because of HIV. He is studying with his mother to go back to school.
Yesterday Today Tomorrow depicts the pleasures and sorrows of life through HIV patients' ordinary lives.
Director's Statement
How can we live with the fear of death?

While asking myself this question, I spent three years with two families living in Northern Thailand -families who were infected with HIV. Yesterday Today Tomorrow is the story of our time together.

Walking to the market in the early morning, working, eating and talking, bathing in the lake and splashing one another with water-the people with HIV in this documentary simply get on with their everyday lives and spend their days calmly, peacefully, a part of the accepting society around them.

The experience of working with these people while making this documentary has taught me one simple but very important thing:
It is the simple, everyday things in our lives, working, playing and being with our friends, things we so easily take for granted, that give our lives meaning. From our appreciation of this we derive our strength.

It is my hope that through this documentary, you will be stirred to consider these things, to feel that the characters in it are speaking to you, and that you will respond.
Biography:
Riyo Naoi was born in 1970 in Ibaraki, Japan.
After graduating in 1997 from Washington State University with an MA in Communications, she joined Asia Press International ( http://www.asiapress.org ), which is a group of independent journalists. She has been living in Thailand since 1999. Between 2001 and 2004, she produced her first feature-length documentary, Yesterday Today Tomorrow. It was submitted for the 2005 Bangkok International Film Festival and Yamagata International Documentary Film Festival 2005.